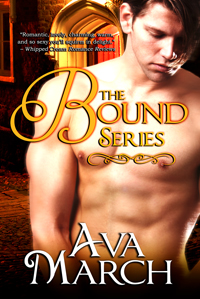 The Bound Series — Paperback Edition
Regency-set BDSM M/M erotic romance
Release date: 8/6/2012
Word Count: 95,300 words (304 pages)
ISBN# 978-1478230755
Publisher: Ava March
Now Available:
Amazon US
Amazon UK
Amazon DE
Amazon FR
CreateSpace
Barnes and Noble
One erotic night at a brothel changes Lord Oliver Marsden and Lord Vincent Prescot's friendship into something so much more…
Note: This book contains explicit sexual content, graphic language, and situations that some readers may find objectionable: BDSM theme and content, including bondage and spanking, and male/male sexual practices.
Lord Oliver Marsden has a secret. He's in love with his best friend, Lord Vincent Prescot. When he discovers Vincent hires a man once per month, Oliver arranges to take the man's place, and discovers a dominant side to Vincent he never expected.
Wealth, status, and a lover who submits to his every desire - Lord Vincent Prescot's life is perfect. Then Oliver asks Vincent if he loves him, Vincent's father demands he marry, and Vincent's neat orderly life spins completely out of control.
Lord Oliver Marsden's life is perfect…well, almost perfect. Then a letter prompts him to push Vincent, his dominant lover, to submit to him. Yet the erotic night has repercussions neither of them anticipated.
Also includes the short stories Deliberately Unbound (Bound #2.5)
and Deliberately Bound (Bound #3.5)