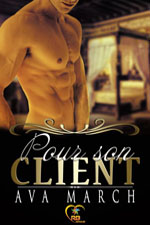 His Client
Also available in French:
Reines-Beaux
His Client — Novella
Regency-set D/s M/M erotic romance
Release date: 3/17/2015
Word count: 39,400
Page count: 137
ISBN: 978-1-942356-13-4
Now Available at:
Amazon Kindle US
Amazon Kindle UK
Barnes & Noble NOOK
Kobo
Google Play
iBooks
All Romance eBooks
Audio: Audible
Audio: Amazon
Audio: iBooks
Audio CD: Amazon
Love wasn't supposed to be part of the bargain...
On every visit to Madame Delacroix's brothel, Nathaniel Travers requests the same man. Stunningly handsome and highly skilled, Jasper not only shares Nate's fondness for wickedly erotic games and black leather corsets, but he has become a trusted confidant. And Jasper's the only person who knows Nate longs for a committed relationship with his childhood friend, Peter Edmonton.
Unrequited love hurts, but it hurts even more when the object of affection is in love with another. Jasper Reed has been working at Delacroix's for a decade. He's saved enough to retire, yet he remains at the decadent London brothel. Leaving would mean leaving Nate and the hope someday the rugged gentleman would stop pining for his best friend and realize he loves Jasper, just as Jasper loves him.
Edmonton's impending marriage looms before them, causing Jasper to take another look at his stubborn heart. Yet Jasper's a bastard whore, and Nate's the nephew of a viscount. Surely there can't be any hope for them...
Note: This is a previously published work. This second edition has been edited with minor changes. For readers who purchased the original edition, this second edition is not substantially different.


© Ava March
Rather than refill Nate's glass again, he pulled it from the man's loose grip and set it on the end table. Time to cut directly to the heart of the matter—the reason today hurt for Nate so very much. They could talk for hours and get nowhere, unless Nate realized that what he believed he lost today was in reality not all he thought it could be. An idealized image built on a youthful infatuation and nothing more.
"Nate, I know you firmly believe you and Edmonton would have been perfect together. But would you have really? Your interests align outside of the bedchamber, but what about within?" From what Nate had told him about Edmonton's character, Jasper highly doubted the two men would actually have been compatible. "Assuming he preferred men, of course," Jasper added. "Could you have been yourself with him?"
A wince tightened Nate's brow, and his lips compressed into a straight line. "I...I..." He dragged a hand through his hair, the gesture distinctly uncomfortable and further disheveling the short layers. "Hell, I know I have eccentric tastes." His shoulders tightened into a hard, defensive line. He avoided Jasper's gaze. "But I would not have expected him to indulge me the way you do. I would have been...different for him."
But of course.
He had known what Nate's answer would be. Had anticipated it. Hence why he'd asked the question—he wanted Nate to come to the conclusion on his own. Still, it hurt to hear the truth.
He swallowed down the constriction in his throat and focused on Nate. "But would you have been happy?" He laid a hand on the man's strong thigh and gave it a reassuring squeeze. "Nate, look at me." Nate turned his head. Wary deep blue eyes met his. "When you are behind closed doors with another, you should never need to be anyone other than yourself." He hated the thought Nate would have felt it necessary to hide his true desires, as if they were something to be ashamed of, if he and Edmonton had ever become lovers. "You're wonderful, Nate. Any man who wins your heart should count himself very fortunate."
Jasper's pulse skipped a beat. But judging by the way Nate arched his brow in sardonic disbelief, the man hadn't read anything more into Jasper's statement, nor had he heard the longing hidden behind it.
"Really?"
"Indeed." Jasper threw him a playful smile. "Who wouldn't count himself fortunate to be guaranteed a lifetime of orgasms of amazing proportions?" He bumped Nate's knee with his own. "And very interesting nights."
Nate rolled his eyes, a hint of smile teasing his lips. "A damned fool, when put that way."
"Exactly. It's just that sometimes..." Jasper let out a breath, and when next he spoke, the levity was gone.
"Sometimes people are better suited as friends than lovers." He held Nate's gaze. "You need to let him go," he said, just above a whisper, hoping beyond hope Nate could not detect the heavy plea behind his words.
"I know." His lips barely moved, his voice even softer than Jasper's. More a low, reluctant rumble from his broad chest than actual words.
Jasper felt himself lean forward, slowly closing the distance between them, pulled by the all-encompassing need to press his lips to Nate's mouth. To erase that hard, melancholy line.
The kiss started with just the lightest brush of skin against skin, but Jasper felt it down into his bones. Nate opened, and the first brush of Nate's tongue against his pulled a moan from his throat. He pressed up against the hard bulk of Nate's side, needing more. A large hand grabbed his hip and tugged. Jasper quickly shifted to straddle Nate's lap, their kiss unbroken, their tongues stroking together, mouths hungry and eager.
Jasper ground his hips, rubbing his rapidly hardening cock against Nate's, fueling the flames of lust even higher. Nate gripped his arse, hard enough to leave bruises, but Jasper could not have cared in the slightest. All he wanted was Nate. The man's body beneath him, behind him... It didn't matter, as long as he was with him.
His fingers threaded into Nate's hair, held on tightly to the short strands. He dragged his lips down to the other man's jaw. Nipped hard and then flicked his tongue over the spot. An inch farther down and he encountered starched linen instead of hot skin.
Starched linen that refused his attempts to free it from Nate's neck.
He pulled back, glared down at Nate. "Did you use a bloody square knot?" He tugged again on the offending knot.
"Hardly." Nate chuckled. "I'll strike you a bargain. I'll see to mine if you see to yours."
"Agreed." The word had barely left his lips before his own cravat was fluttering to the floor. The next moment, he pulled his shirt over his head, flicking it behind him to join the cravat.
He felt the force of Nate's hot gaze swept over his bare chest as the man undid the intricate knot on his own neck cloth.
"Do you know what would be interesting tonight?" Nate asked, pulling the white linen free and revealing the strong lines of his neck. "The second option."
"Pardon?" Jasper's fingers paused, hovering over the fabric-covered buttons on Nate's dove gray waistcoat. He dragged his gaze up to meet Nate's.
"The second option from last night." Nate swept his hands up Jasper's chest, leaving a path of tingling skin in his wake. "You wear black leather so well."

"I've read many historical novels and Ava March's stories rate right up there with the best of them. I'm always extremely happy-and very eager-to lose myself in her world." - Dark Divas Reviews
"I really enjoy Ava March's historical M/M romance books and His Client is no exception. ... I'm never disappointed in an Ava March sex scene. She writes such emotional...smut. It's dirty, yet there is always that emotional connection needed for an erotic book to work. Another romantic, sexy story from Ava March." - Smexy Books Romance Reviews
"His Client is a very emotional erotic m/m romance. The heroes are sexy, loveable and passionate, just the way I like them. Yet another win from Ava March." - Fiction Vixen Book Reviews
"I really enjoyed this book. ... It had angst and prostitutes and unrequited love eventually requited. What more could a girl want?" - Dear Author
"I can say hand on heart that if you liked her other work, you won't be disappointed with this. Unashamedly erotic, this is what erotica is all about... It summons images that are more than just arousing, they are beautiful." - Speak Its Name
"His Client was the perfect story, it really was for me. I fall hard for unrequited love stories and this one was amazing and set in one of my favorite times in romance. Ms. March nails the historical boys who love boys and does it so passionately you cannot help but get swept into the romance right along with them." - Boys in Our Books
"Ava March is just the queen of historicals, providing complex imperfect characters who make me care about what happens to them. ...The sex between Jasper and Nate is a little kinky, a lot tender and a whole lot of hot." - Hearts on Fire Reviews